Living Beyond Breast Cancer's Reach & Raise isn't your traditional fundraiser!
Join your friends and community for a unique morning of connection and inspiration where you'll experience a unique outdoors all-levels yoga class with live music as you move with thousands of others. Enjoy a snack, get some new gear at our Healthy Living Expo and know that you're doing something that will make a difference. We know that people facing breast cancer can't do it alone - help us ensure that all who are affected by this disease have the information and support they need.
Philadelphia
When: May 21, 2017 @ 7:30 a.m. - 12:30 p.m.
Where: Philadelphia Museum of Art / 2600 Benjamin Franklin Parkway, Philadelphia, PA
Map/Directions: Google Maps
WHY YOGA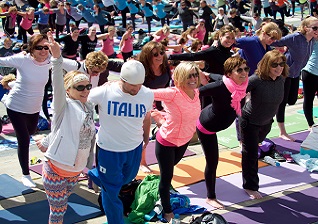 It all started with a Rocky-like idea. In 2000, Living Beyond Breast Cancer CEO Jean Sachs met yoga instructor Jennifer Schelter and one of her students, who had a terrific idea: why not do a special yoga class in support of women with breast cancer on Philadelphia's iconic Art Museum steps?
This would be an opportunity to create something truly unique and to bring together an entire community in support of people impacted by breast cancer, while engaging participants in a fun, healthy group activity.
Since then, yoga has become an integral part of LBBC, since it offers physical and mental health benefits, whether a participant is impacted by breast cancer or not. Unlike a walk or run, everyone is in the same place at the same time, experiencing a special unity. Yoga is a way for people to come together and experience a community of support. And everyone can participate, regardless of their level of physical fitness or experience with yoga.
What's Your Reason?
"I participated in Denver, Fall 2015 for the first time. It was a truly amazing experience to do yoga outside in such a supportive, connected community; the practitioners leading and assisting were gentle and strong, as was the vibe of the whole event. I'm planning to bring my daughter with me to Philadelphia next year." Amy Reichbach